The Garmon (Гармонь), also Hromka (Хромка), Tula (Тула), Garmoshka (Гармошка), Garmonika (Гармоника) is a class of Russian diatonic button accordions that is unisonoric, and mostly limited to a diatonic scale. The layout of the right-hand buttons is such that the diatonic scale is played by alternating rows top to bottom. A few useful accidentals are often included at the top of the keyboard. The two outer rows of the left-hand are in a bass-chord arrangement, with a combination of major and minor chords that fit in with the major and relative harmonic minor key of the instrument. The innermost row of buttons are free-bass notes for the entire diatonic scale.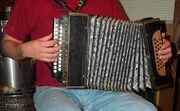 Tula accordions are named for the city of Tula, where the first ones were built. This instrument is widespread throughout Russia and former Soviet states.
Manufacturers
Edit
Community content is available under
CC-BY-SA
unless otherwise noted.